Interviews
Below we interview three experts on Cailfornia's Lower Sacramento River—Michael Caranci (The Fly Shop), Shane Kohlbeck (Lower Sac Trout) and Chris Parsons (The Fly Shop affiliate). In addition to picking up valuable advice, be sure to read Chris' stories—about a cigar hater, a riverside conflagration and the travails of guiding.
Introduction
The Lower Sac is California's biggest trout stream, and its rainbows are commensurately sized (see picture of 30" native rainbow below, courtesy of The Fly Shop). If you want big fish and year-round fishing, try this river. With a smorgasbord of food (2,500 insects per square foot of river), the average fish grows to a satisfying and hard-fighting 16", and whoppers ranging over two feet are not out of the question (bring some heavy gear...). The fishing season is year-round, and water temperatures remain fairly constant, as the river emanates from the bottom of Shasta Lake (drainage of such blue ribbon fisheries as the McCloud, Upper Sacramento, Pit, and Fall Rivers and Hat Creek). As if a healthy trout population were not enough, the Lower Sac also boasts runs of Steelhead and Chinook salmon. However, because the water is warmer than than the mountain streams to its north, the Lower Sac also holds populations of shad, squawfish, stripers and largemouth and smallmouth bass. Highest flows are during the summer, when a drift boat is recommended (there are six launch pads). Wading is possible around riffles during high flow, and across much more territory from fall to spring. Access is fairly easy from Interstate 5, which parallels the river. Another bonus: The Fly Shop is located in Redding, at the top of this great 25-mile stretch.
River Character and Access
The Lower Sacramento is big tailwater with big, powerful rainbows. The water consists of long, featureless, spring creek-like stretches that are broken up by long riffles, deep pools, gravel bars and islands, many of which are more prevalent during low water. Due to the river's size and the frequent private property along the banks. Those who prefer to wade have two options: fish from public parks and access points in the 16 miles between Redding and Anderson or, from your boat, get out at the riffles and take some casts. Click here to get driving directions to the town of Redding. Check out the official regulations.
Photo courtesy of The Fly Shop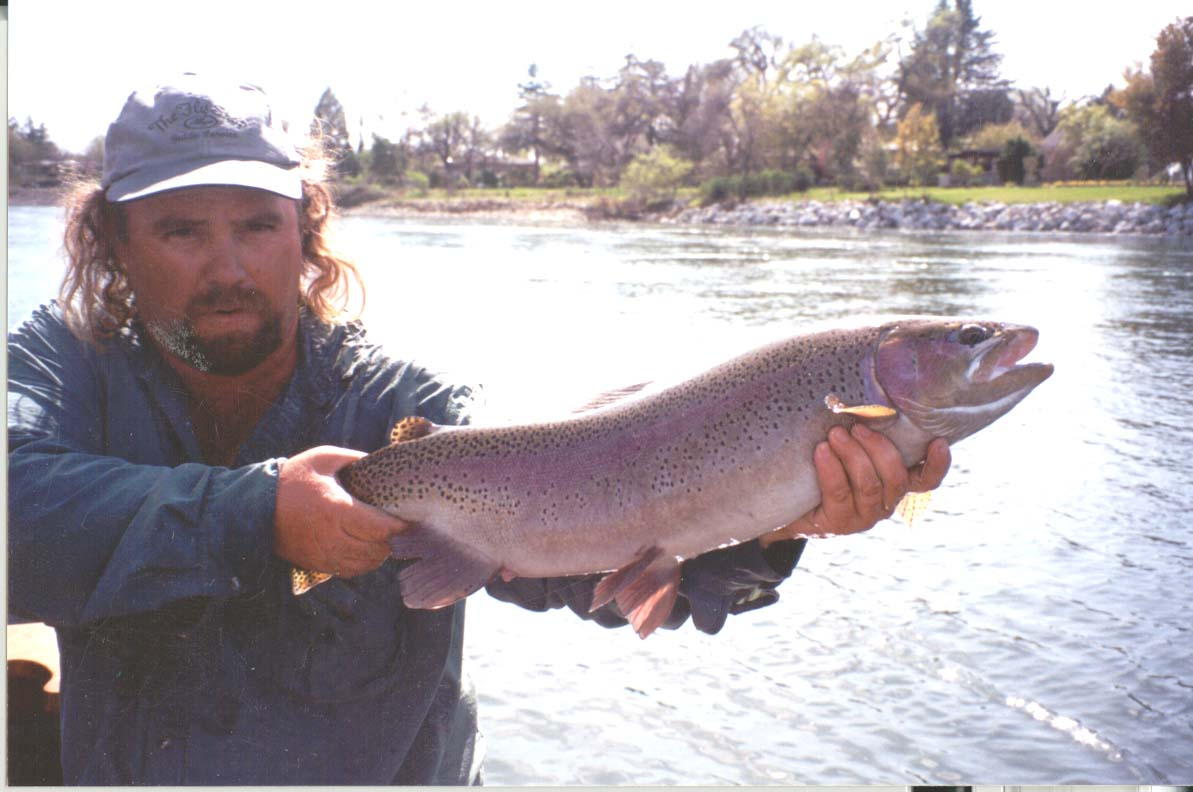 When and How to Fish
The river is open year-round. Summer can be extremely hot and dry, with temperatures over 100 degrees (though the water remains fairly constant in the 50's and provides welcome relief for those who wade). Fall and spring are mild, with some rainfall. Winter is not cold (highs in the 50's and 60's), though rain is common. Highest flows are in summer, when water is discharged from Shasta Lake for irrigation and hydroelectric power. Caddis and salmon eggs are the top items on the trout's menu. From March through September, caddis abound, with the high point being the April "Blanket Caddis" -- a hatch so prolific that it seems to cover ("blanket") the entire surface of the river. In between hatches, nymphing the riffles can be productive. In fall and winter, trout gorge on the eggs of spawning salmon. There are no fly fishing only sections, though the upper section from just below Keswick Dam to the Deschutes Road Bridge below Anderson requires barbless hooks. For more advice on when and how to fish, contact The Fly Shop, check out the books and other fly shops below. You may also want to browse the official regulations and The Fly Shop's fishing reports before you leave. We appreciate your input on this page. Please e-mail us.
Troutsource highly recommends the services of a local fly fishing guide. We've listed the best ones below, and you can contact all of them at once using our e-mail form. A guide can be the difference between getting skunked and catching 20 fish. Remember, getting the right fly is only half the battle. You need to know exactly where to put it, and how -- and this is where guides earn their money. A customary tip is 15%.